Free T-shirt
WM News
Quote of the Moment

: : : : : : :
urban living }
great white shirt }
collarless shirt }
trousers }
T's &
art shirt }
hero jacket }
origami coat }

: : : : : : :
walking manual:
WM timeline
WM glossary
WM guarantee
Analogue
Catalogue

::: top of page :::
::: top of page :::
::: top of page :::

Please feel free to browse the catalogue and if something piques your interest, just click on the image to jump right in.

Ready for a lifestyle change? A good one?

The award-winning Urban Uniform will be what you wear at the end of the day when you cross that threshold and shuck your workday attire.

Soon you'll be wearing it from first thing in the morning on into your everyday day, including those long sits at the computer, in meetings, in flight or even on road trips.

One of our customers bought a new set to wear while he test drove his brand new Porsche out on Route 66.

The Urban Uniform gets on stage a lot, too...our friend at WGBH in Boston plays a mean sax in his...and just the other night, the WM webmaster (who's also a terrific musician) performed at the opening reception for the Richard Diebenkorn SFMOMA exhibition in full Walking Man.

Won't shrink, wear out or look like sweats.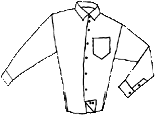 The Great White Shirt. The shirt dreams are made of. Suitable for backyard barbecues or tea and crumpets with the Queen.

A classic that makes you look like Clark Gable. Or feel like you're living with him and borrowing it. "Aspirin" buttons — your laundry won't give you headaches by mangling them.

"The Great White Shirts are the most beautiful shirts. We've examined them thoroughly and highly approve. They are a joy to wear. Thank you." –E.S., Berlin, Germany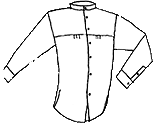 The Collarless Shirt. No tie can bring true happiness. Why wear a tie if you don't have to?

This shirt looks conventional at first. Then heads off in other directions. Cut big and boxy. Roomy and comfortable. What it lacks in collars it makes up for in places to put your pens. Deep shoulder-blade pleats. Buttons that even your laundry can't mangle.

Two pockets and four pen loops. Please wear one to a stuffy, old-fashioned restaurant that still requires a tie and prove how medieval dress codes are. It's the new classic, totally appropriate for casual workplaces and everyplaces.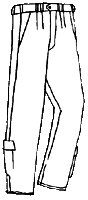 Urban Travellers — the 747 of travel trousers. Great for traveling to Europe. Or Asia. Or to almost everywhere else this side of Alpha Centauri. They're also perfect for less ambitious endeavors like a static test of that backyard hammock.

We've translated our Urban Knit Trousers into a classic trouser to become the ultimate gear. They conform to our "no back pocket policy" with chiropractor approved leg-pockets plus roomy double pleats, button tab waist and a comfortable fit in soft mid-weight 100% cotton twill. Will wonders never cease? Pair them with the Great White Shirt to impress your boss, with the Jersey to impress yourself.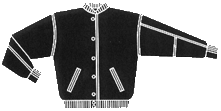 The Hero Jacket. Never slammed one out of the old ballyard? You must have. You've got the look. And now you can have the jacket.

We started with a classic varsity jacket and made it about a hundred times better. Gives full meaning to "full dress" on your Harley. Wool-blend body. Long leather sleeves. Leather cuff guards. Inside pocket for small secret stuff. Tough acrylic lining. Embroidered Sumo Guy or Walking Man on the back, just to keep 'em guessing, or nothing at all on the back. To really confuse 'em.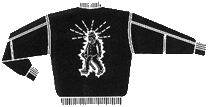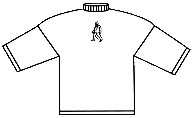 The Urban Jersey is what T-shirts will be like in heaven. You want to be on that team. Looks great with either suit or the Urban Uniform, makes a quiet statement and keeps you comfortable.

Perhaps the world's greatest jersey. Supersoft, hefty combed cotton knit. Baseball-length sleeves never need pushing up, great for rolling. Ribbed stand-up collar, not mock anything. In sizes for every body or XX (a great nightshirt) for a truly generous fit even on big guys.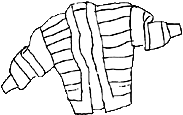 The Urban Cardigan — a big, long comfortable letter sweater. Better than a visit to your shrink. You can wear it longer than 50 minutes at a time and you only have to pay for it once.

Perfect for a 3+ hour flight, much softer than a scratchy airline blanket. No button, no belt, big and simple.

International Design 38th Annual Design Review Consumer Products Gold Award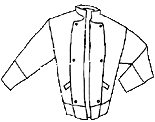 The Origami Coat. Change your mood as easily as buttoning your coat. Perfect for a stroll around the streets of New York or hopping boats in Venice. The generous cut and overlapping lapels make a substantial coat to wrap around yourself when cool, unbutton in stages as the day warms.

The one coat to take with you for many of your travels. Doubles as a blazer and a light overcoat. Buttoned open, it can go to formal affairs with aplomb. Also very at home in business settings. Under the radar of being too wild or inappropriate, but more distinctive than anything found at Brooks Brothers. The overall design makes a very natty coat. The sleeves are designed to roll up or not. The pockets are cut at an angle so they're easy to get into and hold a ton of stuff, the inside pocket holds yet more. Lower seam "anchors" the coat, shoulder seams "frame" it, establishing the profile. The collar is designed to look great with all kinds of shirts. The arch of the sleeve is designed to capture warmth when it's cold outside and to ventilate when it's warm — this is completely true.
"The proportions are like a Chinese Mandarin jacket, which is very flattering, And the minimal approach transcends of-the-moment-fashion."

::: top of page :::